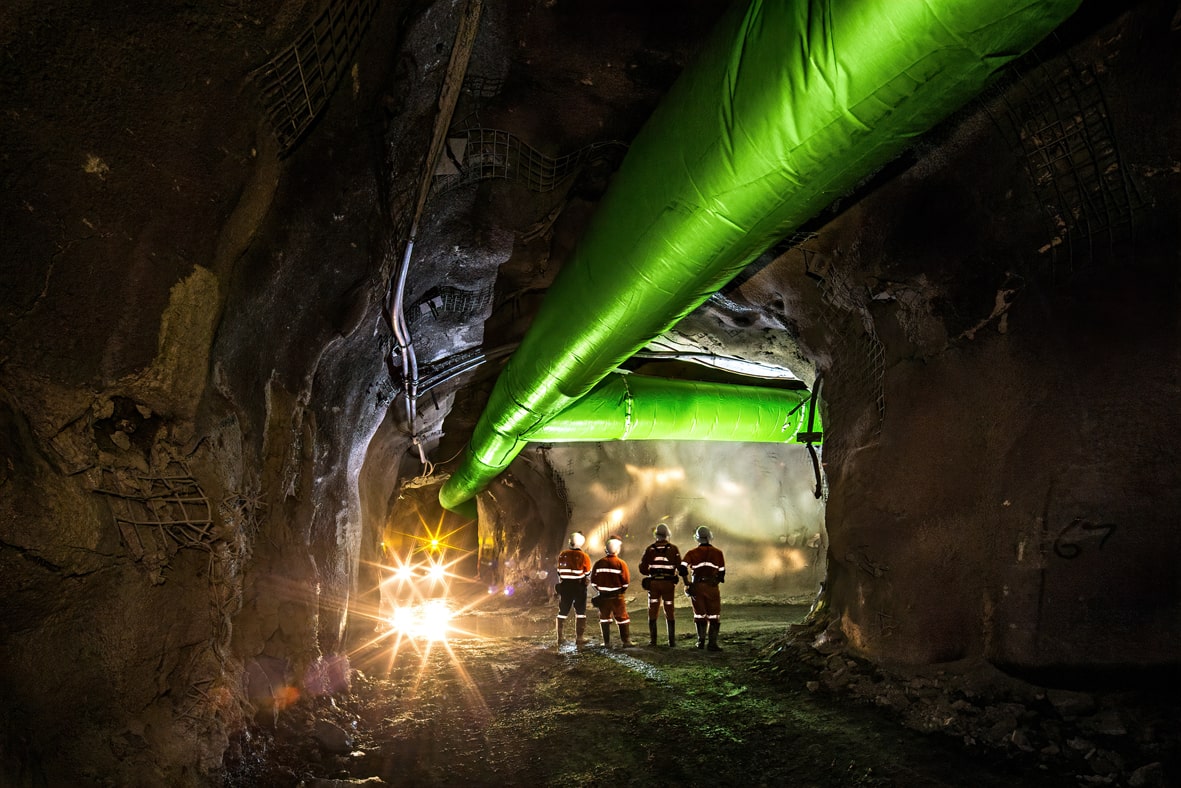 A sustainability paradigm for Mytilineos Group
Why air quality in industrial workplaces matters

It goes without saying that corporate should comply with H&S workplace regulations. For miners, air quality is of major concern, as it is linked to their operators' health and productivity. To adhere to strict ventilation regulations and norms, they set up infrastructure with high operational cost, ensuring the air quality in the underground areas and preserving the employees' wellbeing.
Ventilation-on-Demand & sustainability
The Ventilation-on-Demand (VoD) is an Industry 4.0 solution that controls ventilation, while monitoring the concentration of O2, CO2, CO, NO2, NO, H2S, SO2 and the air flow within the mine.
The air quality real-time data, provide a comprehensive occupational health awareness and allow for optimal ventilation control in order to ensure good air quality and increase energy efficiency. Upon exception, role-based assignees are notified to fix promptly air quality issues.
Impressively, reduction on ventilation energy can be achieved up to 30% with VoD. Mining is an energy consuming process; the ventilation energy is 50% or more of the electric energy budget!

Our Ventilation-on-Demand solution

The IIoT gauging equipment is installed within the mine to measure air quality and air flow in real-time. Air quality parameters are adaptable to meet any mine requirements and regulations. Bilateral connectivity to the VoD server is ensured by an innovative wireless LoRa technology, designed for underground mines.
The IIoT controlling unit connects the ventilator drives to control their operation and adjust air speed. Additionally, energy consumption data are sent to the VoD server for data driven intelligent decisions.
The VoD cloud platform provides a user-friendly environment to deploy the optimal ventilation control. Everything essential to decision-making support is included: versatile dashboard with real-time graphical depicture of ventilation parameters, detailed reporting and a role-based notification system. Incidents, like power or ventilator failure are instantly reported, differentiating from the time-consuming and hazardous manual processes of the past.
Using the VoD platform, mine managers are able to edit weekly ventilation schedules, considering working shifts and blasting planning. Out of working hours, reduced air speed and expanded ventilating time lead to significant savings, upholding the same result in terms of fresh air volume.


Up to 22% savings on ventilation energy for Delphi Distomon!

Delphi Distomon SA, is one of the largest producers of bauxite in Greece and in Europe. On 2019 they launched initiatives to improve ventilation in their underground mines and in preparation for tighter regulations in 2023. Emphasis DigiWorld deployed a pilot solution in 2019 and by 2021 VoD was fully deployed, demonstrating excellent results both in terms of optimizing underground air quality and reducing up to 22% of the ventilation energy cost!
''Maximizing our operators' safety while minimizing energy costs and environmental footprint is a huge step towards our sustainability plan, achieved through a long-term and successful partnership with Emphasis DigiWorld"
Emphasis DigiWorld provide solutions of operational intelligence for industry, mining and logistics, contributing to performance, cost, quality and safety goals. We develop cutting-edge IIoT and cloud technology and turn our customers' challenges into value and business impact.
For more information about our IoT solutions, please visit our site Emphasis DigiWorld or follow our LinkedIn page Emphasis DigiWorld